Bardot Junior Size Guide
For your convenience we've provided a general size chart. Please note garment sizes may vary depending on the style and fit of the item. If you're unsure of the fit please do not hesitate to contact our customer service team.
All sizes are based on standard Australian size chart.
How to measure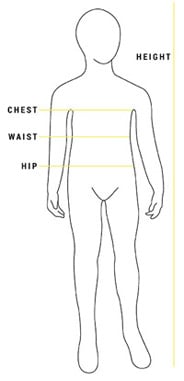 Height
Measure from the top of the toes to the top of the head.
Chest
Measure around the armpits, around the shoulder blades, and back to the front.
Waist
Measure around the narrowest part of the waistline, which is located above the belly button and below the rib cage.
Hip
Start on hip and wrap the tape measure around the top of the rear, around the other hip, and back to where you started.
Infants – Newborn – 2 years
Size
Height
Chest
Waist
Hip
000/0-3m
62/24.5
46.5/18.3
48/19
50/20
00/3-6m
68/27
48.5/19
50/20
52/20.5
0/6-12m
76/30
50/19.5
52/20.5
54/21
1/12-18m
84/33
52.5/21
54/21
56/22
2/18-24m
91/35.5
54.4/21.5
56/22
58/23
3/24-36m
100/39
58/23
53/20.8
60/23.6
(cm/inch)
Size
Height
Chest
Waist
Hip
000
62/24.5
46.5/18.3
48/19
50/20
00
68/27
48.5/19
50/20
52/20.5
0
76/30
50/19.5
52/20.5
54/21
1
84/33
52.5/21
54/21
56/22
2
91/35.5
54.5/21.5
56/22
58/23
(cm/inch)
Juniors 2-7
Size
Height
Chest
Waist
Hip
2
91/35.5
54.5/21.5
56/22
58/23
3
100/39
58/23
53/20.8
60/23.6
4
108/42.5
60/24
55/21.6
62/24
5
115/45
62/24
57/22
64/25
6
120/47
64/25
59/23.5
66/26
7
125/49
66/26
61/24
68/27
(cm/inch)
Girls 7-16
Size
Height
Chest
Waist
Hip
7
125/49
66/26
61/24
68/27
8
132/52
69/27.2
61/24
72/28
10
144/57
72/28
64/25
78/31
12
150/59
75/30
67/26
81/31
14
156/61
78/31
69/27
84/33
16
160/63
81/32
71/28
87/34
(cm/inch)

Kids Shoes
| Size | CM | AUS |
| --- | --- | --- |
| 0-6M | 10.5 | 0-6 MONTHS |
| 6-12M | 11.5 | 6-12 MONTHS |
| 12-18M | 13.0 | 12-18 MONTHS |
| 18 | 12.3 | 3 |
| 19 | 12.9 | 3.5-4 |
| 20 | 13.6 | 4.5-5 |
| 21 | 14.2 | 5.5 |
| 22 | 14.9 | 6-6.5 |
| 23 | 15.5 | 7-7.5 |
| 24 | 16.2 | 8 |
| 25 | 16.9 | 8.5-9 |
| 26 | 17.5 | 9.5 |
| 27 | 18.2 | 10-10.5 |
| 28 | 18.8 | 11 |
| 30 | 19.5 | 12.5 |
| 31 | 20.2 | 13-13.5 |
| 32 | 20.8 | 1 |
| 33 | 21.2 | 1.5-2 |
| 34 | 22.1 | 2.5-3 |
| 35 | 22.8 | 3.5-4 |
| 36 | 23.5 | 4-4.5 |
| 37 | 24.1 | 5-5.5 |
| 38 | 24.8 | 6-6.5 |
| 39 | 25.4 | 7-8 |
Baby hats (0 - 2 years)
Size - One size fits all
53 cm circumference
Girls hats (3 - 14 years)
Size - One size fits all
53 cm circumference
Girls waist belts
| Size | CM |
| --- | --- |
| S-M | 64 cm |
| M-L | 72 cm |
Girls jean belts
Size
CM
S-M
75 cm
M-L
85 cm
End to end, excludes buckle